Blog entries
This page contains all the blogs from the whole semester.
---
My Search for Unique Images
Like most people, when I first sought to add images to my Wiki I looked through Google Images. If Google didn't have what I wanted, I would settle for something less than desirable. The problem with this is that not only do your presentations look unexceptional, but they tend to look just like all others. Because I wanted to see how I can make my presentation stand out, I spent this week exploring different kinds of image search tools.
The Criteria
All of the image search tools that I explored I tested to see how useful they would be for looking at my particular project on Walt Disney Pictures. I then ranked them according to how useful I felt they would be. It should be noted that I ranked these sites subjectively and only within reference to how useful they were for finding images on Disney. This does not mean that they are not useful for other purposes :)
That being said, I based my criteria around ease of interface, filtering capabilities, quality of images, efficiency of site, ability to USE the images retrieved, and reliability of the search software.
The Rankings
(One being the highest)…Click on them to read my in depth analysis of each tool.
Why I Ranked Compfight Number One
Quality of Images
Firstly, because Compfight is search tool of Flickr, which is a private database, the images really are unique. They images that uses submitted themselves and are generally much more aesthetic than any images you find on Google. Here are a sample of some of the images of found through Compfight, using the query Disney:
Flickr Works Easy with Wiki Sites
It is very easy to use public Flickr images in your wiki. Once you find an image on Compfight (or Flickr), click "All Sizes" and then copy the url. When you using the image wizard in wiki, you simply have to select the "Flickr" bullet and then copy and paste the url of the image that you selected.
The only problem is that you do not have as much control over sizing as you would think. On compfight, you can select which size you would like (from a small square to a large size). However, the wiki image wizard doesn't use the specific image size URL. Therefore, even though you selected "thumbnail" size, you may get a slightly larger image. This can get frustrating when you can't use an image simply because it is too large :(
The interface
Compfights interface was extremely easy to use. It wasn't necessary have a very specific query in order to get images I could use, which is why I didn't the filtering options that Google and Ask need.
Likewise, the images are displayed very clearly against one other so you can get a very clear idea of how an image looks before you have to click on it. Likewise, for all public images you can run your mouse over it in order to get the dimensions of the original image.
It Will Always Depend
Although my rankings are what I said NOW, that doesn't mean I will not change this based on need. It is hard to know how badly you could use a tool until you actually need it. Therefore, I suggest you make your self somewhat aware of all of these tools so when that time comes around you can take advantage of what is out there :)
---
by bryblum (

30 Nov 2008 23:02

)
I'll admit it. Like most people, I am "Google Image Loyal" when it comes to searching for images. Why shouldn't I be? It's fast, it's easy, it's well laid-out, and I can always find the picture I'm looking for. So when Professor Moore suggested alternative means of picture searching today in class, I was definitely skeptical. "If it ain't broke, don't fix it," I thought.
However, I was pretty impressed with some one the capabilities of some image search alternatives. Some of my favorites included:
All of these capabilities are great for very specific situations, and can be used as great supplements to Google Image Search.
Surprisingly, the most useful image searching tool taught in class has always been right under my nose. I had no idea that you were able to search for images through Google news. Here, you search only for images from news sources such as the New York Times, Wall Street Journal, etc. I found that the images found through Google news image search were newer, more current events-focused, better quality, and from reputable sources.
I have recently been in the process of creating an "on-going events and news" section for my term project on the Investment Banking world. I was looking for pictures that were new, relevant to the various news topics, and were good quality. I initially began to use regular Google image search to find my photos, but found that the resulting images were repetitive, outdated, irrelevant, and of poor quality. In contrast, the images I found on Google new image search were perfect. I could sort them by date, and find images from the time period of any specified news story.
Google news image search was extremely helpful in this situation, and I will definitely continue to use it in the future. The only request I would make to Google, would be to enable immediate news image searching, as opposed to only being able to view the news image results AFTER searching for pure news results.
---
by jenstan (

30 Nov 2008 19:56

)
The idea of having a custom search engine embedded into my wiki site sounded amazing. It would make it easy for viewers of my site wanting to learn about specific aspects of social networking to find them on sites that I deemed appropriate and useful. It would save time and organize all the sites into one nice search result. However, what sites would be relevant to search that just include social networking information??
Three Main Players
This custom search engine above searches the three sites for the main players I am researching for my term project, Facebook, MySpace, and LinkedIn. However, I don't really know how this would be useful to someone trying to become an expert in the social networking industry. While even though if I type in news I can get some search results from the websites on press releases and blogs about what's new on the sites, it really doesn't give that much relevant or useful information. However, if I searched for my name, the search engine found my facebook page. It also even found my friend's facebook page that linked to my page because I am her friend. Actually kind of creepy if you ask me.
Sites in Blogroll
Since my information resources on most of my wiki have to do with news and blogs, I thought it might be beneficial to make a custom search engine to search some of the websites in my blogroll. I have RSS feeds for these sites because they typically contain new information about the social networking industry. Therefore, someone wanting to become an expert on the field might be looking for one specific topic on these sites.
Sites included in custom search:
However, I found this search engine to not be super useful either. I tried to do example searches for a topic that someone visiting my wiki might want to know. The only queries I could really come up with were very broad, such as [news] or ["new applications"]. These results were not very useful. Most of the information updates from the social networking industry are very specific in which you would have to know the name of what you were looking for in order to search it. In this case, a custom search engine would work to give someone more information on a news item that was discovered in say an RSS feed on my blogroll. A custom search engine for social networking would not be a useful tool for the discovery of new information.
I may or may not decide to use a custom search engine in my wiki. If I do, I will definitely have to tweek my sites included more and maybe discover more useful sites to search. Hopefully this will become clearer as I continue to gather more information for my term project.
---
by jenstan (

30 Nov 2008 19:55

)
When I have no idea how to work a website or search engine such as CiteULike, I find it easiest just to experiment and see what happens. After briefly reading the FAQ page, and learning the basics of CiteULike, I just dove right in to find if it would be a useful tool for a student to use.
CiteULike is a free service to help you to store, organise and share the scholarly papers you are reading. When you see a paper on the web that interests you, you can click one button and have it added to your personal library. CiteULike automatically extracts the citation details, so there's no need to type them in yourself.
Soon after registering on the website, I realized that it only works with certain specific sites. Some of them made sense like the Social Science Research Network and the MathSciNet, but then others were really random and specific that I don't think would ever really be useful in any research I would do, such as the Journal of Machine Learning Research. Another site that really intrigued me was Amazon. I was confused on what it would give me citations for because the link just brought me to the homepage of the online shopping site. So I decided to find something here and try it out.
My First Attempt to Cite
I just looked around Amazon and decided to try the page for a "Present Time Smiley Luxe Fur Water Bottle pink". I copied and pasted the link into CiteULike like it told me, and I got this in response:
Sorry. Can't do it. I couldn't post the page you were looking at to the site because: This item on Amazon does not appear to be a book. It looks like a Kitchen.
After having a good laugh about it, I realized that if I would've thought this through I should have realized that it would at least have to do with some sort of writing or book, but now I know. And I also fell in love with an adorable pink fuzzy water bottle that I would like to point out does not look like "a Kitchen".
From a Student's Perspective
As a student, I feel that CiteUlike could only be somewhat beneficial, due to its lack of compatibility with most sites. After realizing that it meant that it could cite books sold on Amazon, I tried doing The Scarlet Letter, which they sell on the Amazon website. It worked. It also let me tag the page to make it easy to find in the future, which is really nice. I think that this would be very beneficial in doing an english paper or researching information from books. Once you have your sources, you can then export them and it basically makes a bibliography for you. Amazon is probably the site that I would use most, since it has such a broad range of books. Most of the other sites I have not heard of and found hard to navigate through to find information on a specific topic.
When I do research for a paper or project, I normally go to library databases for my sources. CiteULike does not recognize these files and would not automatically cite them from the URL. I could, however, type them in manually so that they appear with the rest of my sources and get tags, but it would almost be just as much work as doing them by hand. Therefore, I found the major benefit of CiteULike to be the online library that can be accessed from anywhere and shared with other people. For example, for a group project all the members could put the sources they found on CiteULike and share them with the other group members. They could also organize them by tags for the project to make it easier to find information.
Overall, I was not very impressed by its features and probably will not use it much in the future. The part that interested me the most was the amazon searches for things other than books, which doesn't really have anything to do with the actual features of the site.
---
Google Can't Pick Up Everything
I was surprised to learn that if you can't find something on Google, that it doesn't mean it doesn't exist. There is apparently a significantly larger portion of data that exists beyond what Google and other dominant search engines can pick up.
These documents that are unquery-able from main search engines make up "The Deep Web" and consist of about:
20-100 billion documents
250 queryable databases
7,500 terabytes of data
(keep in mind that these are very approximate)
The reason why Google and other main search engines that are unable to gain access to the Deep Web is because Google's "spiders" cannot track certain kinds of pages, such as proprietary pages, flash pages, and real time information.
Most of the Deep Web consists of academic journals, which is why I am so surprised that I hadn't known of the search engines that get gain access to these sites sooner. I am excited to know that for future research, I can use alternative search engines to explore parts of the web that I had never before been able to.
Why It Is Time To Branch Out
Thus far, whenever I had "serious" research to do, I would feel very clever by using specialized tools, such as Google Scholar or JStor. Jstor works well if you have access to it and have a certain specific resources that need retrieval, such as history of art journals. But for more general and free of charge searches, I always assumed Google Scholar was sufficient enough, especially because I had no other tools to compare it to.
Google Scholar has some useful features, such as full text of books, multiple languages, and library link options to your school's library with every retrieval. However, it also has some huge drawbacks that make it an altogether ineffective search engine. For one, it has huge coverage gaps and Google makes it impossible to know what kind of coverage is being left out. There is no feature on the interface that reveals where the coverage comes from, such as a feature that reveals whether the retrievals that are journals, articles, or books. Likewise, Google prevents you from knowing what sources they pool from, which prevents you from knowing how reliable your retrievals might be. It does not retrieve documents through Google Scholar the way it does through the general Google Search, which makes it very inconsistent to get the same results with similar queries.
I was quite surprised to learn exactly how much information and possible resources Google Scholar leaves out and why it is not acceptable when you need to come up with credible and reliable sources for research. I had no idea that there were search engines that could provide comprehensive, integrated, and transparent results that reveal exactly where the information is coming from. I also didn't realize how many other search engines had interfaces that could be easier on the eyes and easier to follow.
For searching the Deep Web, here are some of the sites that I explored as an alternative to Google Scholar:
Making New Friends
Turbo10
One of the main advantages of Turbo10 is its search clusters. Once you search for one general term, Turbo10 will help you refine your search by having clusters that you can select in order to narrow it down. I found this extremely helpful as I rarely know exactly what I am looking for. When I am in the early stages of research, the clusters help me explore what related topics I can search for within my broader search. Likewise, you can select which search engines you want to utilize if that will increase the relevance of the search.
I also like the interface of Turbo10 compared to other basic search engines. It is much simpler (with only about 5 retrievals per page), as well as a small graphic to give you an idea what the site looks like before you click on it. This helps you save time and quickly see whether or not the site might be useful.
Scirus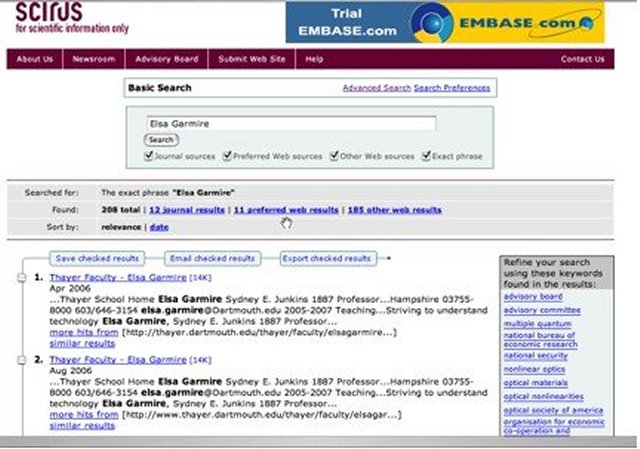 Scirus has by far the most transparent of these specialized search engines. Their About Us section of their page reveals all of the other databases where they pull from, which Google does not have. This allows viewers to get a clear analysis of the credibility and quality of the results, as well as signal to the viewers what Scirus has and what they don't have.
Scirus maintains this transparency for each query by showing which numbers of retrievals fall into the categories of: "journals," "preferred web," or "other web." Likewise, they show what types of pages have been retrieved: html, pdf, or word. This helps you quickly evaluate what kind of results are coming back and whether or not you need to rethink your query or how far into the documents you should look before trying again.
With the sorting and post-query features, I honestly felt like Scirus was able to tell me what I was thinking. The topic pages connected with Scirus really help you narrow down you search, which has been very beneficial for my beginning stages of research projects. Although Scirus does not have the most aesthetic of interfaces, it probably has the easiest interface to navigate.
Librarian's Internet Index
Librarian's Internet Index had my favorite interface compared with all of the other alternative Deep Web search engines. On the front page, it allows you to pick general search categories if you are having trouble getting started.
The results themselves for Librarian's Internet Index are much fewer in number than most sites, making the search process seem less overwhelming. For example, when I searched for "cookies,"
it only came back with 31 retrievals, compared with the 3,256,355 retrievals that came back for Scirus.
The only disadvantage I found with Librarian's Internet Index was that it didn't state where the sources where coming from; the query results page didn't have feature that showed how many of the sites were journals or other formats.
BNet
I was excited to find out about BNet, especially because so many of my research projects are related to business.
I found BNet's interface to be very impressive and strait forward. Whenever you searched for something, it showed where the content came from on the right hand side. Likewise, I can see how the discussion thread that follows every piece can be very useful to hear the perspectives of "everyday" users.
Other helpful features on BNet I liked were:
The Business Library Topics (on the lower left hand side of each of the headings on the main page)
The featured articles for every heading
The Video Library
For someone who has trouble keeping up with current events, this seems like a great site to follow current issues with the economy.
The Bottom Line
Although it will be impossible to cut out Google from your life entirely, I am hoping that this blog will encourage you to branch out a little bit. Although all of the sites mentioned above have a pros and cons depending on your needs, they will generally work 100 times better than Google Scholar will for conducting research. They should raise your standards from what you expect out of a search engine! These search tools are so helpful that they might inspire you to learn about things that you don't even need to know, just because its so much easier to find information :)
---
by BrianHeM10 (

30 Nov 2008 14:01

)
Currently I am preparing for my first interivew of my recruiting process for a Technology Advisory Intern position at PricewaterhouseCoopers. In class, a suggestion was to use one of the new page monitor tools to keep track of new information about a company. Thus, that is exactly what I did. I will give a brief overview on what Yahoo Pipes is, show how I created my pipe, and comment on the results.
Why Use Yahoo Pipes
Yahoo Pipes is an extremely interesting and powerful tool that lets people take a information from across the web, combine it, filter it, and mash it up in almost any way possible. Some examples of cool Pipe creations are Hot Deals Pipe, which lets you enter 1-3 items you are interested in finding good deals on, and People Search, which lets you enter in a first/last name and find images and news about the name.
Yahoo Pipes is an advanced version of FeedRinse - a tool that takes a set of RSS feeds and filters the content based on your interests. FeedRinse focuses just on RSS/XML pages while Yahoo Pipes lets users extract data from HTML pages, Flickr photos, Google Base, and Yahoo Search.
How I Created the PwC Pipe
Creating a new pipe is a fun experience for anyone who likes Legos or just mashing things together. It's user interface is pretty slick and really makes you feel like you have complete control over what you're making. My PricewaterhouseCoopers pipe is extremely simple compared to the ultra-complex creations some people have made. However, it takes some time and a strong programming background to go beyond what I can do.
After deciding "What is my objective?" for my pipe, the next step is to decide "Where am I going to get my data from?" I usually use Google Base and Yahoo Search in my pipes, so those were a given. The queries are the same for both (intitle:PricewaterhouseCoopers AND advisory). Google Base will give me links to articles, blogs, and press releases about my topic while Yahoo Search will return basic search results. However, I restricted the Yahoo Search result to not include any result from "pwc.com" because I have page monitors from WatchThatPage and Feed43 to watch for new job postings.
I then found 5-6 RSS feeds related to the Big4 & PricewaterhouseCoopers. For the Big4 blogs, I filtered the results using the "Filter" operator to only permit entries that contain PwC or PricewaterhouseCoopers. Unfortunately, screenshots of my final pipe do not work.
What I Discovered
My pipe worked perfectly and I already have a lot of good information to read on PwC. I will also have access to any new information between now and my interview date. Here is a partial list of the articles/blogs my pipe returned:
I hope this pipe will help me impress the interviewer with some knowledge of the latest PwC news. I also look forward to using Yahoo Pipes more in the future and learning how its more advanced abilities.
---
by BrianHeM10 (

30 Nov 2008 14:00

)
The number of social news sites has grown dramatically during the past few years - some succeed while most fail. Digg and Slashdot are two of the ones that have succeeded. Digg has the most daily unique hits by far but it is also caters to most types of news readers. Slashdot is also extremey popular as well but focuses on a much more niche market Slashdot serves ("News for Nerds"). I am going to compare to both sites in terms of the quality of articles I find, the browsing experience, and any additional features that separates one site from the other.
Digg
The first thing that jumps out out you when you go to Digg is the fact that each article has a number of "Diggs" next to the article's title. Diggs are basically votes from site readers who help the community know whether an article is of good or bad quality and contains relevant or useless informaton. The process is explained here. This process creates a real democratic/social feel to the site and is the same sense-of-impact that drives other social collaboration services/sites. The inclusion of Video and Images is also extremely interesting and helpful. I've always been frustrated that with the exception of the "Popular" videos on Youtube, there is little to no way to distinguish a good video from something that is a waste of my time.
Part of the value of going to a news site is to find out information you weren't sure you were looking for. For example, when you use a search engine, you are looking for something specific. But, when I go to a news site, I want to be told something random or interesting. Digg definitely delivers on that. I wasted 30 minutes between paragraphs reading about Six Creepy Urban Legends, 10 Foods to Boost My Immune System (and that fix my cholesterol problem), Top 10 Ways Harry Potter Should Have Died in the Deathly Hallows, 6 Best Video Game Costumes for Halloween, The Most Ridiculous Video Game Box Quotes Ever, 7 Actors and 2 Directors Who Should Retire….you get the idea. I didn't even care they had a "search box" (but apparently really am attracted to articles that are Top "X" lists). The fact that I could find things that are interesting to me and in such a quick amount of time is due to two things: Digg has a fantastic user interface that is easy to navigate and a rabid fan base that does a great job at voting on content.
The past 10 days has been mind blowing for the gaming industry (and will get more intense over the next few weeks) with the release of Fallout 3, Fable II, and Farcry 2. With Fallout 3 being released today, I did a search for digg for about Fallout 3. I didn't really like how most of the top results seemed really outdated. Only 1 result on the front page was from within a month. I understand the "Best Match First" ranking, but I think a news site should always take date into consideration. When I switched to Newest First, the results were pretty relevant (3 of the results on the front page were random); but, all but one was less than a week old. This is crazy considering Fallout 3 is one of the most anticipated game launches of this quarter - there should be at least 10-15 articles from today or yesterday about this topic. That was a little strange.
Digg is a daily visit for a lot of people I know and whenever people ask me or talk about it, I just nod my head and pretend like I actually go to the site. Yet, in just a short amount of time playing wtih the site, I can see why it is so popular. Nevertheless, it is much better for finding random entertaining/interesting articles than using it as a search tool.
Slashdot
Slashdot has been around forever it seems (even though it has not) because as a computer-maniac in high school I always was linked to articles on Slashdot. The most interesting thing about the site is that if someone didn't tell me it was a "social news" site I would never have guessed it. It has an extremely different interface than Digg (much more "newsy" and formal) and doesn't emphasize the community aspect as much. This is mainly because articles are actually posted by site staff (or so it appears) and submitted my members. Slashdot has **a lot* less content than Digg it seems so Slashdot may be better utilized in RSS form.
In terms of content, about 90% of the articles in the Developers, Games, Hardware, Mobile, and Tech sections are interesting to me so I won't go into specific articles I like/read. Although there is not a ton of new content every day, whatever is posted is generally very high-level and destined to be referenced by a plethora of bloggers and wanna-be tech news sites. Slashdot is much better than Digg as a news site, but I am really struggling to see the social elements of it.
Summary / Other Odds & Ends
There is no clear winner between Digg and Slashdot as they seem to serve two different purposes. However, Slashdot, unfortunately, is a site I can stick into an RSS feed and be told what and when to read things. Digg is more entertaining to visit and can be a vacuum for my personal time. Plus, there is one huge, huge thing that separates Digg from Slashdot: Digg has a Microsoft section!. Why does Slashdot only have an Apple section? Slashdot is missing out on articles like Windows 7 to be Released in 20 Versions (not true, but hilarious article).
---
by BrianHeM10 (

30 Nov 2008 05:23

)
Introduction
The "Deep Web" is the enormous amount of information that is hidden from normal search engines such as Google, Yahoo, Live, and AltaVista. Essentially, the information within the Deep Web are articles and research reports that exist within databases or password-protected websites. As a result, this high-quality information requires more effort to locate; yet, there are a few tools that can be used to dive into the Deep Web.
There are essentially two different ways to find information in the Deep Web: use a web tool that indexes information from databases or go straight to the primary source of articles. I will be comparing the information I find using Google Scholar, Turbo10, and BNet (three web tools) versus what I find using Gartner and Forrester - two IT research firms with subscription based access. The topic for this test is SaaS Growth / SaaS Adoption Rates.
SaaS Adoption Rates
As one of the fastest growing industries in the world, it would make sense to be interested in just how fast (or how much of) the world is adopting SaaS either as a vendor or a consumer.
Google Scholar
Query - (intitle:"software as a service" growth) or (intitle:"software as a service" adoption)
Google Scholar didn't turn out so well and I am hoping this isn't the case for my next two searches. The first ten results did not yield anything. Zilch. I found some really good information on How SaaS is Delivered, The User Experience of SaaS Apps, and Pricing Models for SaaS. But nothing on what I was looking for.
Score: 0/10
Turbo10
Queries - SaaS Adoption, SaaS Growth
First, it was very ironic that the first result I found was actually a Gartner report on SaaS posted for public view on SalesForce.com. The information was pretty helpful, so Turbo10 does get some credit for that. Some key findings from this report:
SaaS growth expected to be 22.1% per year through 2011
Adoption currently varies from 1% to 75% depending on the segment (!)
Projected revenue for content, communications, and collaboration software is $2.1B in 2011, higher than CRM and ERP (surprising)
Report provides an extremely valuable list of major players in each major category and sub-categories of SaaS
Unfortunately, this was the only relevant result from Turbo10 (for both queries), but it was also the first result for both. Nevertheless, because of how informative the article is, Turbo10 gets a pretty good score.
Score: 6/10
BNet
BNet is a search engine that browses a library of business related journals and sites. It provides search results with both free and premium content.
Queries - software as a service growth, software as a service adoption, saas growth
I had really high hopes for BNet because my first few queries with the service produced some pretty interesting results. Unfortunately, the results fell short of my expectations. Both the first, second, and third queries yielded nothing on SaaS. Why?!
In reality, these results must be taken with a grain of salt. The information I was searching for really does not cater to what BNet provides. BNet focuses a lot more on strategy, management, and other "business operations" information. I spent some time looking through BNet's site (particular the Technology section of the Industry's area). Found some great information - for example, I found this article on Sequoia's overview of the current Venture Capital industry and how to move past the current economic issues. Earlier today I was forwarded the exact PowerPoint Sequoia developed yesterday that led to this article. This is certainly a testament to BNet's quick reaction time to new data.
My point: When using an online tool, make sure in advance it is meant to give you the information you're looking for before judging its results. Thus, BNet will not be scored because I made a poor decision to expect good results from it.
Forrester
On to the first of two research services. I had never used Forrester (or Gartner) before, but do have experience with IDC so I am aware of the quality of information to expect. Also, I am very aware that both the research services know alot about SaaS; thus, my expectations were again fairly high. In Forrester, they were met and exceeded big time.
Query - "software as a service", "saas", "growth" OR "adoption"
Forrester lets you combine different keywords so my results incorporated any research that related to software-as-a-service or SaaS and had either growth or adoption as a keyword. The only report I found relevant was seventh down the list, which was a little concerning, but the content made up for this. The report was title SaaS Success Takes Careful Consideration, published on a few weeks ago. The key points were:
*HR apps, collaboration, and CRM are the most popular choices for SaaS
*Large enterprises are showing as healthy of an appetite for SaaS as SMBs
*Customers are embracing multiple SaaS solutions
*IT is increasingly at the forefront of SaaS deals
There are three interesting charts I want to share. These charts do a good job of presenting a general idea on SaaS's prenetration in the software industry (However, please look at the report if you can to learn more about what these charts really tell us). :
I really liked Forrester's user interface, browsing options, and of course, its data. However, I would have liked to see this report in at least the top 3 considering its relevance and would have liked to see more of the top 5 related to my topic - especially since I was searching based on keywords.
Score: 9/10
Gartner
The first thing that caught my attention with Gartner is that there is actually a Software-as-a-Service sub-category deep within their Technology/Software research! That was awesome. I was able to search within this category and just looked for "market growth". The first result that came up was the report I mentioned earlier from Gartner and the second result was a Overview of SaaS that provided a absolute ton of information on SaaS background, current information, and future. The report links to a wealth of other Gartner articles that are relevant to SaaS (and very interesting). Unfortunately, the links are only available on the online version of the report from Gartner's website(title: "Essential SaaS Overview and Guide to SaaS Research").
As a search and information tool, Gartner is only so-so. The interface is a little finicky and the browsing experience is pretty tame. Yet, in regards to this particular test, Gartner dominated. It provided relevant, consistent information that was readily accessible and displayed appropriately. Thus:
Score: 10/10
Comments
One of the most interesting things I learned from this test (besides the truth of how much more effective it is to go to a primary source) is that I can create RSS Feeds from Gartner and Foresster to use for my research. Unfortunately, whoever wants to reed the information from these feeds must have access to these two sites. Other general comments:
Google should be ashamed of Google Scholar and stop using "Beta" products as an excuse for any deficiencies
Turbo10 needs to revamp their presentation and how results are displayed. It can be confusing or unclear as to what the result is about.
BNet is a great tool - if you're searching for information on how to run your business and business-related news
Forrester has a good user interface and extremely valuable, detailed information
Gartner has great information, especially for my topic, but could have a better user interface and browsing experience.
In conclusion, it is clear that finding research data from a primary source potentially is more successful than using a free "Deep Web" tool.
- Forrester and Gartner will definitely become (or already is) valuable resources for previous and new information on the SaaS industry.
- I will use BNet in the future for personal uses, but in relation to SaaS research, it is probably best to stay away.
- Turbo10 was successful, but I was not that impressed so most likely I will not use it again.
- Google Scholar - never…ever again.
---
by BrianHeM10 (

30 Nov 2008 05:22

)
Have you ever felt Google was too broad a tool to use? Did receiving 1,200,000 results about a topic seem daunting to browse? That is the solution that custom search engines bring! Essentially, the SaaS Search Engine was created to focus on retrieving information about SaaS topics from websites and news sites related to the industry. That way, all the results you receive are relevant and come from similar sources. The SaaS Search Engine was built using Google Custom Search Engine - a tool that lets you wittle down Google's massive index of websites into whatever you like. I am going to briefly mention how the search engine was made and then look at how useful the search results of the Search Engine are.
Building the SaaS Search Engine
Basics

Name
Description
Keywords (Default Search Queries)

Sites (Content to Search)
Look and Feel
Make Money (Add AdWords)
The sites used to create the SaaS Search Engine were:
Webware.com - Frequently updated blog on SaaS applications
Mashable.com - Ditto
CNet.com - Comprehensive technology news sites
ZDnet.com - Sister site to CNet
Amazon.com - Part of the SaaS 4
Microsoft.com - Part of the SaaS 4
SalesForce.com Part of the SaaS 4
Google-Watch.com - News site dedicated to watching Google
Microsoft-Watch.com - News site dedicated to watching Microsoft
How Useful is the SaaS Search Engine
It is very difficult to classify what is "useful" or what is not. Since the sites/content was chosen by me, it is pretty obvious that at least the overwhelming majority of the search results will be relevant. However, I will try to enter in some different queries and go through what the SaaS Search Engine returns.
Comments: The results I received when entering these queries were extremely satisfying. As time goes on and more sites are added to the SaaS Search Engine, this can become an extremely valuable tool to find new information about the SaaS industry. My only complaint is that Google's custom search engine software only relates to web search (not Blog, Image, News, etc).
---
by dpnick (

29 Nov 2008 22:46

)
In this blog, I am going to compare the two most popular social news sites, Digg and Reddit. For the past few years, I have used Digg and I have grown very accustomed to it. I use it not only to get the news, but also for enjoyment. For instance, when I checked Digg today the first piece that came up was this, which put a big smile on my face (exactly what I need after a stressful day).
I have heard of Reddit in the past, but I have always been content with Digg and therefore never spent time to check it out. Therefore, in this blog I will be reviewing Reddit, while comparing it to Digg at the same time. Then I will discuss their application to my term project, Apple.
Best Feature
After searching through Reddit's website, I found that the best feature is that you can give a story a positive OR a negative review. Digg only allows you to "digg" (a positive review) a site, and therefore this is different from Reddit. In the past while using Digg I have actually thought it would be a neat idea to allow users to do this. At first, while the idea sounded cool I wasn't sure if it's something that would work well. Boy was I wrong! I checked out the Controversial section and instantly was impressed. While Digg is engrossed with Liberal Democratic news, the Controversial section of Reddit actually provides both sides of the story. I quickly ran across an article discussing a Texas businessman who wrote a letter criticizing Obama. It was very interesting to read and is something I never would come across on Digg. Most of the other news pieces in the Controversial section was very appealing, and I actually became engrossed searching through it. This is my favorite feature of Reddit!
Overall Opinion
The organization in Digg is much cleaner than Reddit. I really like how Digg provides a brief description and an image of the article. Just comparing the look of the two websites, I feel Digg looks much nicer and more professional:
One of my favorite things about Digg is it allows the user to pick a category (Technology, World&Business, Science, Gaming, etc.) and each category even has subcategories! Reddit has a similar customization feature, however, Digg's is much more simple. The nice thing about Reddit's customization feature is it allows you to be extremely specific about your search. For instance, if you want to read news for everything except Science, Entertainment, and Atheism, it will allow you to. This is different from Digg's subcategories, and they both have their pros and cons. However, Digg certainly gets the nod over Reddit here, especially because it allows you to sort your search by News, Video, Image, or All. This is a feature I use frequently because many times I like to look through the Images section for a good laugh, or gaze the news section to learn news about a topic. Reddit does not offer this option.
Do they help with my Apple search?
Digg
Under the Technology tab, the first subsection is a subsection for Apple, making this way too easy. I decided to try searching Digg to find a good feed the appropriate way (the way you might use it):
The main goal here was to find a reliable results page to add to my RSS Feed, one which has a lot of good Apple stories. The best way to do this is to customize my search so that I am receiving a good number of recent feeds that have an adequate number of Digg's (an article with too few Digg's might not be important, or might be a useless rumor). I tried a few different queries, but the main two that worked well were "Apple Inc." and "Apple". There are three search settings that Digg allows you to customize. These search features made my search a lot easier because it allowed me to customize it to find the appropriate results I wanted.
Where to search. (Title, Description, and URL; Title and Description; Title Only; URL Only)
The type of stories. (Front Page Stories or Upcoming Stories)
How to sort the results. (Best Match First, Newest First, Oldest First, and by Most Diggs)
The query "Apple Inc." brought back great results, however, it gave an insufficient amount. It appears that this feed would add approximately 4 new articles a day, which is not enough for what I'm looking for. Therefore, I decided to go with the query "Apple". The best settings I found were Search Title Only, All Stories, and Newest Feeds First. It's important that it sorts "newest feeds first", because every time a new feed is added, it will be added to the top, and therefore will be added to my Bloglines. It appears this will provide me with approximately 40 articles per day. While this is a lot, these are easily scannable because many of the results will be duplicates of my other feeds. Given that this is a social news site and some of the articles have a low number of Digg's, I need to be careful to make sure the items are true and that they are about Apple (the company, not the fruit). Skimming through some of the current stories, I am very pleased to see the results.
Reddit
Searching the query "Apple" was an immediate failure because many of the links did not regard Apple the company. One of the first few discussed how to make caramel apple cupcakes and another apple art (which is actually kind of cool). I refined my search a bit by customizing it for only Technology and News, however, this apparently doesn't apply to the Search feature (it didn't change the results). A search for "Apple Inc." brought back accurate results, however, it appears they only happen every couple months (making it a worthless feed). I tried some other queries, such as "iPhone", "iPod", and "Mac", but to no avail. Again all of the articles were spaced out over several weeks. I looked through the site thinking that maybe I'm doing something wrong (how can it be so ineffective?) but it appeared I did everything right in my search. For my term project on Apple, Reddit is no help.
My Impression
I like Digg much more than Reddit, and I think most online users agree (Digg has 7x the users that Reddit does). However, I have been using Digg for years and therefore I am biased. I do think it is really interesting how users can rate an article positive and negative on Reddit, and the Controversial section is a very cool feature. While Reddit is unhelpful for my term project, it could be very helpful for you. I would highly recommend giving both Digg and Reddit a try.
---
Some sites, for whatever reasons, don't have an RSS feature that allows you to receive updates through your blog roll. This can became inconvenient when you want to see if a site has changed without having to spend the time to check the site frequently. To get around this, you can use email alerts. Email alerts allow you receive updates in your inbox whenever a site has changed.
Email Alerts
You can get updates via email in several different ways. The ways that I have experimented with have been through Google Alerts, Yahoo Alerts, and GoogleAlert (which is a separate company from Google). All of these three involve signing into an in account in order use them.
Google Alerts
Google alerts allows you to search very specific items and send them to your email. Likewise, you can specify how frequently you wish to receive updates, which can make it much less overwhelming when you receive updates from hundreds of sites. Although Google has a lot of resources, I found Google Alerts to not be very helpful for helping you develop your query if you did not know what you wished to specifically receive information about. Therefore, I recommend refining your query through Google before using it in Google Alerts.
Yahoo Alerts
I personally did not find Yahoo Alerts very helpful for my particular research. However, for more general purposes, such as "Market Updates," it can be a useful service. The interface has a menu of choices that you can choose from. Then it is relatively easy to select the desired alert and watch its progresses on Yahoo. The problem is that if you have a search topic other outside their menu options, it can be very unhelpful.
Google Alert

Google Alert is a separate company from Google, which searches only Google documents. Google alert I found to be the most useful for conducting specific and originally research. However, to make the most of it, I found I needed to use the "Advanced Search" option. Even with this feature, though, there can be dozens of retrievals. Therefore, you really need to know what you want before query. Otherwise, you will get so many retrievals that you really won't be able to get much use out of them.
Making the Most of Email Alerts
The key takeaways I found with email alerts was that you have to spend a little extra energy before you begin to make sure that you email alerts are useful instead of an inconvenience.
Having a specific and useful query is key-otherwise the email alerts wont be relevant and will overwhelm your mailbox
Likewise, if you have Yahoo or Google email accounts, you should set you email that your alerts go to so that they go directly to your folder. For example, you want all your alerts about [Market Updates] to go to a folder, you can add the name of your folder into your email address so that it doesn't go the main inbox.
Where To Go From Here
I highly recommend email alerts for topics that you want to be informed about but don't have the time to track manually. I also recommend Google Alert, of all the tools I tried, even though you have probably never used it before. However, I am slightly disappointed that it isn't more strait forward how to filter your email alerts that you will receive before they actually are sent. Currently, you type your query and then they send you emails without you having much say in the ones that are sent initially. This is not to say that you can't edit them later. But it would be nice to filter them initially. Likewise, I would appreciate if they allowed you to send emails to a specific folder through university email accounts, for those of us that just are somewhat old fashioned and use our university email accounts.
On the whole, though, I found this new tool really exciting. It allows another way for you to make the most of the web without having to spend endless amounts of time searching and checking up on sites. You should definitely try it the next time you find a site that you like that doesn't have RSS feeds.
---
by roopak (

28 Nov 2008 15:32

)
Introduction
Interviews are right around the corner and there are fewer and fewer jobs to be had! For this reason, I have decided to stray from my usual topic of oil consumption and focus on how to deal with the coming battles that face us all. Interview preparation is difficult because it seems like companies can ask you anything and everything and in whatever way they want. In my recent discussions with seniors, I have heard stories ranging from an interviewer playing around with his cell phone to four interviewers walking into the room and turning down the lights. Despite how crazy an interviewer may act during an interview, all you can really do is know your stuff and hope for the best. Since the markets are going nuts and students are going crazy, I decided to see how the tools we have used in BIT 330 can help prepare for the madness to come.
Company
I started by using the tools to find information about J.P. Morgan interviews. I specifically picked J.P. Morgan because it hasn't had much bad publicity and I feel like it will still exist in the coming months. I used Google Search, Bloglines, and BNET to see what I could find. I figured that I would get a good variety by using a web search, a blog search, and a deep web search. For all three, I used ["J.P. Morgan" interview blog] as my query. I thought the best resources would be blogs specifically tailored for interview prep.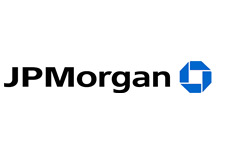 In my first few Google results, I found a nice page about J.P. Morgan on Indeed.com that had a basic description of the company and some basic information (revenue, number of employees, stock symbol, headquarters location) that was good for getting started. There were also links embedded within this information for further research. The tenth results was a forum in The Student Room where there was some specific information about the interview process given by various people. Details included the number of interviews per round, the numerical test, and how technical the questions are. Just below this result was the Vault.com excerpts of surveys of current and former employees in various positions. Overall, Google seemed like a great place to get important numbers about the company and some detailed information about the application process.
Unfortunately, Bloglines and BNET didn't yield nearly as helpful results. The first result in Bloglines did state that J.P. Morgan sets aside money for temp or temp-to-permanent jobs. Other results had no information specifically about interviewing/working at J.P. Morgan, but had news stories and interviews with people who did not belong to the company. BNET only returned results from Zacks Analyst Blog Highlights and Schaeffer's Daily Market Blog which contained articles about the stock. Of the three tools, Google Search seemed the best and Web Search in general seemed like the best method for this research.
Job Field
I decided to do a more general search next on investment banking interview preparation. I thought this would be more applicable to the average student because this is where the most prep time would be devoted. Seniors have told me that knowing specific information about a company is not always necessary, but you are always quizzed on the basics. I entered ["Investment banking interview"] into each of the three tools and hoped for the best.
The first result from Google was an excellent resource! It was an investment banking interview prep blog with various links to IB flash cards, professional networking sites, and company profile pages along with many other resources. On the home page of the blog, there was also a recent entry by the host about his internship training week. He included a brief overview of each day of training and his thoughts on the process. This site seemed extremely helpful! Other results within the top 5 included Investment Banking Interview FAQ from Cornell University's Management School and two pages from Mergers & Inquisitions (an investment banking site) with a Superday Guide and information about the selection process. This simple search in Google seemed to give me all the resources I needed to get a good start on interview preparation.
The first result in Bloglines contains a great blog entry within the Mergers & Inquisitions site about how to answer the most important interview question: "Walk me through your resume." Other good results included "What Are The Big 5s in Investment Banking Interview?" and a Brainteaser Q&A. Bloglines seemed to be a better place to find out the best way to answer specific questions that come up in an interview, while Google appeared to be a better resource to find out about the interview process.
Unfortunately, BNET found no results and simply returned a list of companies which were its top tags.
Conclusion
Though interview preparation is grueling, there are a lot of resources on the internet that make it a lot easier. People have compiled all of the information they used and blogged about their experiences so that we can learn without as much pain. From my two searches, I uncovered a lot of resources that I was previously unaware of and will definitely benefit me in the coming months. My recommendation, as I stated above, would be to use Google Search for factual information on a company and information about the interview process. I would recommend using Bloglines to find out the best way to answer specific questions. Looking at other web searches and blog searches could provide greater insight into the best way to use the internet to prepare for interviews. The deep web was once again disappointing to me, but I still believe that there is a chance it could be useful if the right deep web search engine is used for the right purpose. I plan to subscribe to RSS feeds of Google Search results and Bloglines results from the queries I used. I hope my searches will be a good launchpad for your own interview preparation searches.
---
by roopak (

27 Nov 2008 06:30

)
Introduction
I naturally have a tendency to be skeptical of web resources that I have never heard of. Before our class on The Deep Web, I had no idea that the Deep Web existed. The idea that these were resources that a normal Google search could not access interested me slightly, but I assumed the information couldn't really be that useful. I decided to go ahead and give the "Deep Web" a try and explore what it had to offer. I thought it might change my perceptions like RSS feeds and news searches had.
Unfortunately, I was not really wowed by this new resource and it didn't alter my perceptions. I went through each of the Deep Web resources given in class to conduct exercises and submitted the query 'oil consumption' (with quotes). This was a relatively simply query that I assumed would produce similar results across the board. My assumption turned out to be horribly wrong. I have included the top 5 results returned by each resource below and evaluated each resource based on my results.
Deep Web resources
Scirus
Environmental Defense - Putting the Brakes on Oil Consumption
Plasmatron could cut oil consumption, emissions - MIT News Office
03-Engine Oil Consumption Measurement Brochure
The Determinants of Sulfur Emissions from Oil Consumption in Swedish Manufacturing Industry
SwRI measures real-time wear and engine oil consumption in motorcycle engines
My first observation with Scirus was that the format of the results was similar to that from a normal web search in Google. Each result had a title and a short description below it. This was very simple and straight-forward.
Taking a look at the results, I noticed that each result was relevant in some way to the search. They talked about either measuring oil consumption or reducing oil consumption. They were large websites with many resources and did not talk about current news. Instead, each result was one webpage that discussed something related to oil consumption. Also notable was the fact that of the top five, one result was from 2006, three were from 2007, and one was from 2008. I would not consider this a particularly useful source for my project. Though it did not unlock any wealth of information about oil consumption, it did at least provide a few interesting pages.
Google Scholar
Consumption of Olive Oil and Specific Food Groups in Relation to Breast Cancer Risk in Greece
Fish oil consumption and decreased risk of cardiovascular disease: a comparison of findings from …
Oil and the Macroeconomy since World War II
Olive-oil consumption and health: the possible role of antioxidants.
The Effect of Olive Oil and Fish Consumption on Rheumatoid Arthritis-A Case Control Study
Once again, the format of the results was similar to that from a normal web search in Google. This was simple to use just like with Scirus above.
Unfortunately, the results returned were terrible! I think that might actually be an understatement. This was easily the worst resource I had found so far in the class! Just looking at the results made me laugh and think that this might be a joke. Olive oil? Fish oil? How could these possibly be the main topics of 4 of the top 5 results? The only result that actually spoke about the type of oil I was looking for spoke about World War II.
Could this possibly get worse? Somehow it actually did. The publication dates for the results in the order they are listed above were: 1995, 1986, 1983, 2000, and 1991. Professor Moore mentioned during our class on the Deep Web that sometimes the publication dates are wrong in Google Scholar. I'm not sure if this is the case with these results, but I am assuming that the majority of them have the correct publication dates. They just happened to be not at all relevant to what I was looking for and from at least 8 years ago. All I have to say about Google Scholar is that it is horrible and I probably will not be relying on it for any help.
BNET
Cyprus Solar Thermal Market and Technology Assessment
Palm oil consumption increasing, says council, BUSINESS TIMES
BP SHOWS AREAS OF MOGAS GROWTH; FLAT GLOBAL OIL CONSUMPTION
BP: WORLD OIL DEMAND DIPS IN 2001; U.S. REFINING CAPACITY CREEPS HIGHER
Too Soon to Re-enter Oil Stocks?
The format of the results from BNET was slightly different from the two resources above and a normal Google search, but it had the same degree of simplicity and straight-forwardness. It also contained tags below the results, which I found rather convenient.
Besides the article on palm oil, these results were relevant. Some of the results linked to excerpts from the papers or articles on the BNET site and some linked to other websites. It was a bit annoying that most of them required registration to view the actual paper or article. However, these articles were very informative and BNET seemed to be a good resource for extensive research on a topic. Just like with the previous two resources, BNET's publication dates for the top 5 results were not very recent. The fifth result was from the day I conducted the search (08/13/2008), but the other results were all from 2002 and 2003.
Turbo10
Energy Information Administration - International …
NationMaster - Oil > Consumption (most recent) by …
Dodge, Chrysler DaimlerChrysler Vehicle Defects
Oil Industry Statistics from Gibson Consulting
Petroleum - Wikipedia, the free encyclopedia
Now this was a good example of bad formatting of results. The default was 5 results and there was no description below the titles. There were also no publication dates listed. The only information that was given besides the title and the domain name was the source that provided to result to Turbo 10 (for 4 of the results this was alltheweb.com and for 1 of the results this was dmoz.org). This was completely ineffective.
The results were not bad in terms of relevance. The first result was an excellent resource with all kinds of statistics about oil. This was the same resource I had gotten most of my data for my project from at this point. The second and fourth results were both very informative resources as well. As far as quality of results goes, this was the best of the Deep Web resources so far. I must note that I found it amusing that the fifth result was simply a link to the Wikipedia entry for 'Petroleum.'
Librarians' Internet Index
AAA Fuel Cost Calculator
Corporate Average Fuel Economy (CAFE)
How Gas Prices Work
Oil Spiel
Fueleconomy.gov
This was the best of all of the resources in formatting of results. Below each result title was a description, the url, the topics (i.e. Automobiles, Oil & Gas), and the date the site was last updated. I could have no complaints about this. It was even better than Google.
The results themselves did not make me quite as happy as the formatting, but they weren't bad either. The first and fifth results were completely irrelevant. The middle three contained interesting information about fuel economy, how consumption is taken into account to determine gas prices, and peak oil. All three of these were potentially useful sources. It is important to note that the first three results were last updated in 2005, the fourth was was updated in 2006, and the fifth was last updated in 2008. Though this was a good resource overall, like with most of the others, the results were not very current.
Conclusion
I did not find any of the Deep Web search engines to be especially useful for me. I can say, however, that I can see each of them being useful except for Google Scholar. I did only submit one query to each of the Deep Web search engines, so naturally my results cannot be taken as conclusive evidence of how useful they will be in general. However, I believe that some of the observations I had can provide good clues as to how useful they will be for research on other topics. If you would like to take a look at the full lists of results returned by the Deep Web search engines for my query ('oil consumption'), here are four of them: Scirus, Google Scholar, BNET, and Librarians' Internet Index. For Turbo 10 you will actually have to type in the query ('oil consumption'), because the url does not change in the address bar when you conduct a search.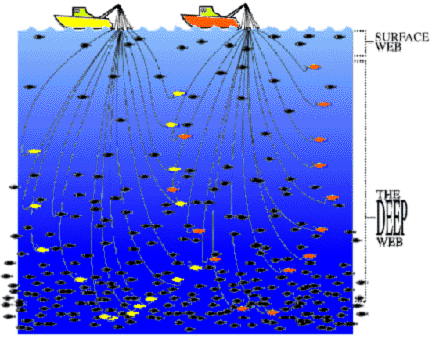 ---
by samoore (

26 Nov 2008 19:28

)
Here's a great article at the NYT about how "Google Seduces with Utility". I have a feeling it describes how many of you feel about the company.
---
by tmuir (

26 Nov 2008 17:14

)
State Stats is an interesting little application that I stumbled across. You enter a query that you are interested in and then it gives you information, broken down by state, on who in the United Sates is doing that search. They use the Google chart API to give you a nice color coded map, too.
On top of that, they show the correlation between where the search is done and different statistics about those states. Such as longitude (like, location), literacy, unemployment and even infant mortality rate (kind of morbid). They make sure to note that correlation is not the same as causality, but some of the stuff is pretty interesting.
---
by jenstan (

26 Nov 2008 16:43

)
Yahoo Pipes is so intense and elaborate and confusing yet really cool. In this blog I'm going to attempt to make a blog of news related sites with information on each one of my main players, Facebook, MySpace, and LinkedIn. Hopefully as I go along this whole idea about Pipes and how it works will become a lot less intimidating.
Problem #1
Do I make just one pipe for all three, or do I make three separate pipes? To go about answering this question, I decided that I probably should just start making the pipe and see which direction it leads me in. In order to get a feed from a news search engine to enter into the source box, I had to first search for a specific item in the search engine. Therefore, I ended up searching for news articles about Facebook. This made me run into a second problem of having way too many results, which I discuss below. However, I just kept going and entered the specific feed on Facebook into my pipe. I decided that it may be easiest due to the fact that this is my first pipe and I should just go with wherever it takes me. I know for a fact, however, that feeds doing all three players at once, Facebook, MySpace, and LinkedIn, are possible through the filter functions and other things, but I will leave the discovery of those functions for another time.
Problem #2
Even after using my knowledge of search techniques learned in the class, the searches that I ended up with produced way too many results to actually look through them all. I'm not sure how this will affect the end output feed of the pipe, such as will I get 500 new results each day or will it automatically know that I've already seen the old ones and not show them again? I don't think that I can figure this out without trial and error, therefore I will leave it as is and modify it in a week or so if it overwhelms me with the number of new articles each day.
Problem #3
If the site does not have an RSS feed attached to it, what source do I use for the URL? For example, I used "Fetch Feed" as the source to input the URL of the RSS feeds for Google News and Yahoo News, but AltaVista News does not have RSS feeds for its searches. After reading the descriptions of each source and looking at examples, I realized that with my knowledge and inexperience with Pipes, using AltaVista News as part of my pipe may be too complicated for me to do.
My Sad-Looking Pipe
Overall, I think that my first pipe creation taught me a lot, but I was not happy with my end pipe. Although I feel like I didn't do anything wrong so that the pipe wouldn't work, it will not be that helpful for my term project. I ended up only using two sources, Google News and Yahoo News, because they were the only ones that I found RSS feeds for. Perhaps I can use the other skills I learned about Page Monitors to somehow produce a feed for the other ones and then integrate it into that pipe. It is very scary how Yahoo Pipes required me to use a lot of the skills I've already learned in the class such as news searches, RSS feeds, search techniques and strategies, and others in order to make the pipe.
What Next?
Tutorials. Practice. Tutorials. Practice. I need to learn so much more about Yahoo Pipes to actually get the full benefit.
A shortcut that we learned in class that I would highly recommend is the Browse feature. You can clone other peoples pipes that they've already done the work making and then use or modify them to fit what you are trying to do. This is going to be my next step and hopefully will prove more successful than trying to make my own.
Unfortunately, Yahoo Pipes is still just as intimidating to me as it was before I tried using it.
---
by jenstan (

26 Nov 2008 16:39

)
Since Social Software is such a broad category and so many people with no authority write blogs about it, it is very hard to find credible sites of information on the subject. This is where I realized news search engines would be very useful. In this blog, I will explore news search engines that I didn't even know existed before this class. Hopefully, they will help me find more information on social software.
Google News Archive
The most intriguing and interesting search to me in class was the Google News Archive. Since Social Software is just in the last couple of years becoming such a popular thing, I figured a timeline might be a uselful tool to look at. Indeed, it was and my prediction was correct. The number of sites on the topic was small and stayed pretty steady until about the year 2001, and then steadily increased up until the present. Now it is almost triple the amount than it was in 2002. I would definately recommend Google Archive if you want to track the progression of information about a topic.
Jamesoo
My next news search was through site called Jamesoo. I thought the name sounded pretty funny and I questioned its abilities and also its statement on its homepage "Find what you'll never expect." This time I was definately proven wrong in my first reaction. I am amazed by this site and think it is probably one of the coolest that I have learned about it this class. What makes it so different from Google News and Yahoo News, is that it formats the page to look like a real newspaper, with tabs on the side to get to page 2, 3, and so on. The site even adds humor to the fact that it looks like a newspaper, stating in the top right corner "Please do not litter your computer after reading." In addition to the layout, I found the information in my search for Social Software to be very relevant to what I was looking for. The only downfall of Jamesoo that I found was no link to an RSS feed for searches. I wish there was one because this would be a very helpful feed to have on a blogroll to find information on the Social Software Industry.
LexisNexis News
Finally, I will search LexisNexis News. My first impression was that it seemed very professional looking and credible, the opposite of Jamesoo. My impression was also biased because when I hear LexisNexis, I think of the search database that I used through the library for papers and projects. However, when I tried using the search box to search for my term project topic, a new window opened from LexisNexis that said there was an error. Now I'm not sure if the search function is just down now or the site is not very reliable in general, but it definately discourages me from using it as a news search engine in the future. On the other hand, if you are just browsing top news stories in large categories such as Businees or Sports, there are links directly on the homepage to what seem to be good sources. Unfortunately, however, LexisNexis News did not help me with my search for Social Software because it is not a common category.
---
by BrianHeM10 (

25 Nov 2008 01:23

)
Sending PricewaterhouseCoopers Through Pipes
Currently I am preparing for my first interivew of my recruiting process for a Technology Advisory Intern position at PricewaterhouseCoopers. In class, a suggestion was to use one of the new page monitor tools to keep track of new information about a company. Thus, that is exactly what I did. I will give a brief overview on what Yahoo Pipes is, show how I created my pipe, and comment on the results.
Why Use Yahoo Pipes
Yahoo Pipes is an extremely interesting and powerful tool that lets people take a information from across the web, combine it, filter it, and mash it up in almost any way possible. Some examples of cool Pipe creations are Hot Deals Pipe, which lets you enter 1-3 items you are interested in finding good deals on, and People Search, which lets you enter in a first/last name and find images and news about the name.
Yahoo Pipes is an advanced version of FeedRinse - a tool that takes a set of RSS feeds and filters the content based on your interests. FeedRinse focuses just on RSS/XML pages while Yahoo Pipes lets users extract data from HTML pages, Flickr photos, Google Base, and Yahoo Search.
How I Created the PwC Pipe
Creating a new pipe is a fun experience for anyone who likes Legos or just mashing things together. It's user interface is pretty slick and really makes you feel like you have complete control over what you're making. My PricewaterhouseCoopers pipe is extremely simple compared to the ultra-complex creations some people have made. However, it takes some time and a strong programming background to go beyond what I can do.
After deciding "What is my objective?" for my pipe, the next step is to decide "Where am I going to get my data from?" I usually use Google Base and Yahoo Search in my pipes, so those were a given. The queries are the same for both (intitle:PricewaterhouseCoopers AND advisory). Google Base will give me links to articles, blogs, and press releases about my topic while Yahoo Search will return basic search results. However, I restricted the Yahoo Search result to not include any result from "pwc.com" because I have page monitors from WatchThatPage and Feed43 to watch for new job postings.
I then found 5-6 RSS feeds related to the Big4 & PricewaterhouseCoopers. For the Big4 blogs, I filtered the results using the "Filter" operator to only permit entries that contain PwC or PricewaterhouseCoopers. Unfortunately, screenshots of my final pipe do not work.
What I Discovered
My pipe worked perfectly and I already have a lot of good information to read on PwC. I will also have access to any new information between now and my interview date. Here is a partial list of the articles/blogs my pipe returned:
I hope this pipe will help me impress the interviewer with some knowledge of the latest PwC news. I also look forward to using Yahoo Pipes more in the future and learning how its more advanced abilities.
---
by samoore (

20 Nov 2008 15:04

)
The Wired Blog Network has an article about the rising speed of supercomputers. What it describes is truly amazing. It also alludes to the controversy that I talked about in today's class about how simulations are a new type of science, and scientists are slowly beginning to recognize that (or fight it).
Also, here is a time-lapse video showing its construction.
---
by samoore (

19 Nov 2008 20:27

)
Today's WSJ has a review of VideoSurf. You might find it interesting.
page revision: 9, last edited:
21 Jan 2009 16:42